Working at a summer camp is one of the most rewarding jobs you will ever have.

But with these rewards, also comes challenges and moments when you may ask yourself, "why did I sign up for this?" With this exhausting and hard work comes an experience you will cherish for a lifetime. You'll play hard, laugh, grow and pay it forward to the new generation behind you! We're looking for staff who believes in the power of connecting kids to nature, and are driven to make a difference in the lives of all of our campers. WHAT YOU DO MATTERS!

Above all, you must be a powerful positive role model and mentor for girls.

You must also…

Demonstrate true teamwork

Foster an inclusive community

Put the needs of others ahead of your own

Be flexible and adaptable, and

Radiate patience, and when you think you're about to run out, find more

As a Direct Service (Unit and Program Staff) member you may be teaching skill development in areas of: horseback riding, rock climbing, costume design, kayaking, fire building, acting, archery, culinary arts, survival techniques and more. But you will also cultivate a strong sense of self, critical thinking skills, conflict resolution, cooperation, team building and so much more!

Unit Staff and Program Staff are responsible for implementing program curriculum, designing lessons, activities and experiences for girls. You'll teach songs, play games, plan events, lead nature hikes, coordinate cookouts and so much more. A core process of Girl Scouts is to have Girl Led activities, so once campers arrive you'll work with them to plan and create part of their experience as well. You'll be assigned to a unit program with 12-24 girls and a team of 2-4 staff each session. Activities are lead by Unit Staff and Program Specialists. Not only will you take care of their needs like setting up their living space, showering, and kapers, but you will also lead most of their programming. As a unit, you'll have time over the session to create a true team and solid friendships between your campers. These campers in your unit will be with you all day, every day. You'll take action when they aren't feeling well, you'll get up with them in the middle of the night, you'll teach them new things and be the absolute coolest person they know for their session at camp!

Our Support Service Staff members are imperative to the success of our mission. For example, being part of the food service staff is more than just preparing delicious and healthy food. You are providing an opportunity for campers to connect to others over a meal, try new things, learn practical life skills by setting tables, clearing dishes, learning the principles of not being wasteful and more.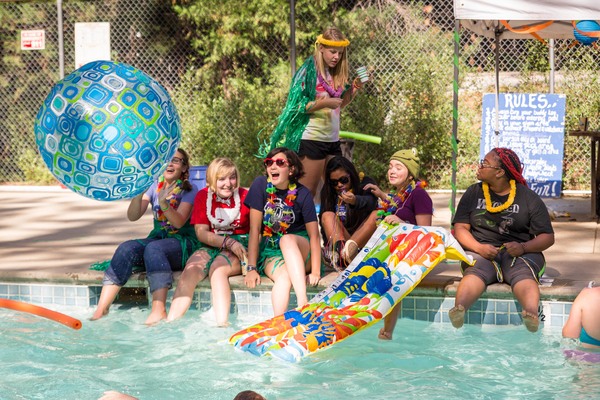 Your ADVENTURE begins with US!...
SKYLARK RANCH resident camp is located in the beautiful Santa Cruz Mountains, just south of San Francisco, near the Pacific Ocean.
BOTHIN resident camp is located just north of the Golden Gate Bridge in San Francisco.
SUGAR PINE resident camp is located in the Sierra Mountains, about 3 hours north of San Francisco. Our camps offer dynamic summer programs where girls, ages 6-17, learn and grow through exciting and enriching outdoor experiences. We serve over 4,000 campers each season and provide a unique atmosphere where girls are respected, nurtured, challenged and empowered. As campers participate in activities, they build self-esteem, develop skills, increase knowledge, enhance teamwork and cooperative behaviors and, of course HAVE FUN!Each camp offers a combination of traditional group programs, where campers participate in a variety of camp activities, and specialized programs that provide concentrated time in a particular area, such as horseback riding, rock climbing, surfing, performance art and MORE!THE STAFF ROLE: Our staff members are part of a valuable team with the collective goal of bringing the camp philosophy to life and helping girls grow toward their fullest potential. Camp Staff members are selected on the basis of their skills, experience, professional work ethic and ability to serve as positive role models for girls. Visit our website or contact us for more employment information.BE PART OF THE CAMP EXCITEMENT THIS SUMMER AND MAKE A DIFFERENCE IN A GIRL'S LIFE! Click on the link below to go straight to the website complete our application online!!!!