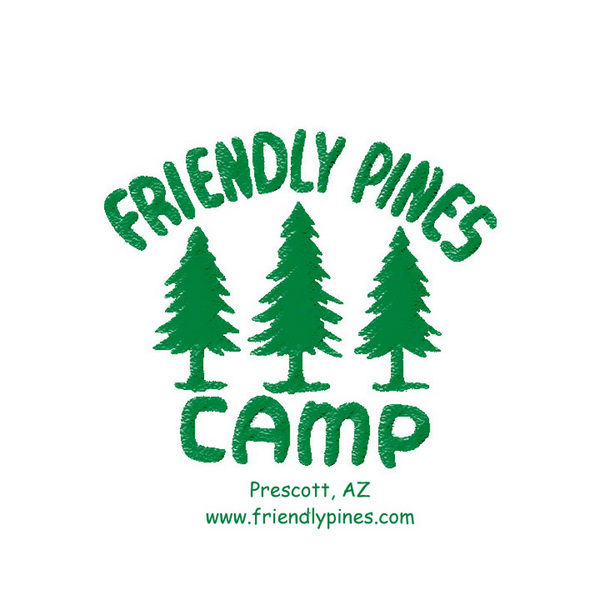 Camp Location:
Prescott, AZ
Camp Gender:
Coed

Camp Type:
Resident Camp

Program Emphasis:
General Program
Retreat/Rental

COME BE PART OF SOMETHING AMAZING THIS SUMMER!!
Friendly Pines Camp, a privately-owned residential camp for boys and girls, ages 6-13 years old, is looking for outstanding camp counselors for the summer of 2014! It's a rewarding and exhilirating experience, a chance to commit oneself to the highest possible standards, and an opportunity to meet some great kids and colleagues! It truly is the hardest job you will ever love, and one which will make memories to last a lifetime!
COME PLAY IN THE MOUNTAINS WITH US IN 2014!!
Cabin counselors live and sleep in a cabin with 4 to 8 children, who are grouped according to age and grade. Counselors supervise camper's living habits and look after the well-being of the campers. Counselors also lead an assigned activity (over 30 activities at camp!) in which their teaching skills and previous experience can best be utilized. They also help run and plan daily evening activities, cook-out meals weekly with their group, eat with the campers in the dining hall and perform various other duties. Check us out online and email or call with any questions. We look forward to hearing from you!! Counselors must be 18 years old with one year of college completed. Summer 2013 Dates: May 25- July 27th, 2014. Additional training days for challenge staff and equestrian staff.
Positions Available:
Sports Counselors

Archery
Baseball
Basketball
Riflery
Soccer
Softball
Tennis
Volleyball


Other Positions

Pet Farm
Animal Care
Vaulting
Pony Cart Driving
Fencing


Miscellaneous

Photography
Video
Horseback Riding Instructor


Performing Arts

Drama
Dance


Arts and Crafts Positions

Jewelry Design
Painting And Drawing


Waterfront Counselors

General Waterfront Counselor
Canoeing
Jet Skiing
Kayaking
Swimming
Water Skiing


Health and Safety

Nurse
Nurse's Assistant
EMT
Lifeguard
Water Safety Instructor


Kitchen Staff

Food Prep
Baker
Dishwasher


General Staff Positions

General Camp Counselor
Office Positions


Academic Staff Positions

Camp Newspaper

Contact Information
Summer Address
933 E. Friendly Pines Rd
Prescott, AZ, 86303
Winter Address
933 E. Friendly Pines Rd
Prescott, AZ, 86303 United States
928-445-2128 (tel.)
928-445-6065 (fax.)
Job Board Front Page
---