Teach at Wilderness Camp in Northern California's High Sierra!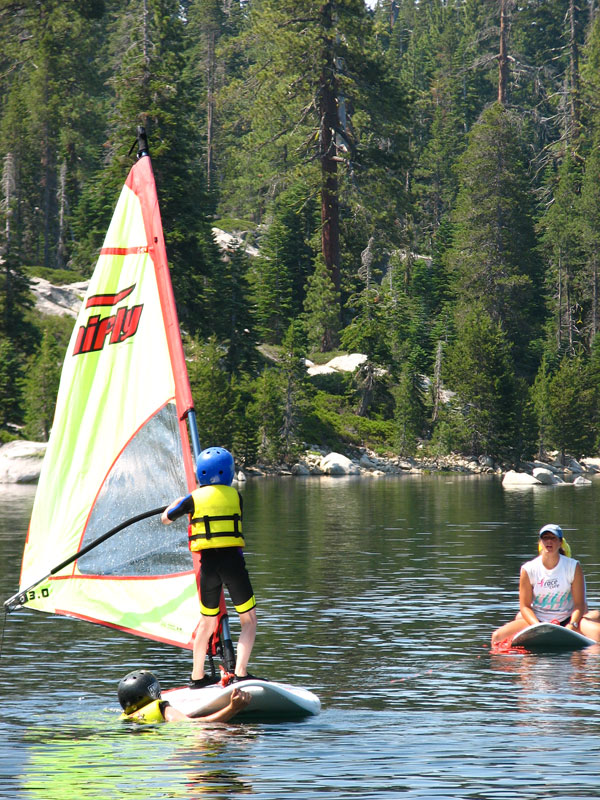 Deer Crossing Camp is an outdoor adventure in California's High Sierra at 6400' elevation on Loon Lake in Eldorado National Forest. Deer Crossing stands out from other summer camps due to our emphasis on skill building and wilderness safety, our focus on developing resilient youth, and our wilderness location. At our back door is beautiful Desolation Wilderness with 100+ lakes and numerous destinations to explore. There is no road into camp; campers hike in and all supplies and gear are boated in. It is a true wilderness living experience, with limited access to the Internet and no cell phone reception at the camp location. Our talented staff teach beginner through advanced activities, at the level each camper is ready for.

Based on the idea that competence builds self-esteem, camp programs teach sailing, canoeing, kayaking, and windsurfing. Land activities taught include rock climbing (on real rock), technical tree-climbing, archery, backpacking, arts and crafts, improv comedy, and guitar. Qualified teens ages 14-17 participate in basic to intensive leadership programs.

Tent accommodations for campers and staff are located near the lodge. Meals are served in the lodge overlooking the lake. The lodge also houses separate bathrooms with hot showers for campers and staff.

The Deer Crossing Camp program attracts outgoing and energetic adults who enjoy wilderness living and challenging experiences in an atmosphere of adventure and fun. In addition to lifeguard and WFA certification, our staff training covers techniques designed to bring out the best in children; successful staff are open to using this information to strengthen their own skills as well as support campers. ACA accredited.

Seeking WINDSURFING, ROCK-CLIMBING, & CANOE INSTRUCTORS

Looking for WINDSURFING, ROCK CLIMBING, and CANOEING Instructors. BACKPACKING experience is a major plus. Archery and guitar skills also pluses. Each staff member fills two roles. One as a general counselor and one as an activity instructor. We look for experienced people who can teach water-oriented sports as well as land-based activities, such as arts and crafts, guitar, improv comedy. Instructors must have a solid foundation (i.e., 100+ hours of experience) in the skills they teach. If not already certified lifeguards, all instructors must be capable of being certified during staff training.

Base pay is $3550, for 9-1/2 weeks of training and camp. Pay increases if you are a certified Wilderness First Responder (WFR), have ACA-accepted certification in a program activity, or have worked at Deer Crossing before. Staff receive one full day (24 consecutive hours) off each week, as well as the occasional activity period or evening off. Staff are paid at the end of each two-week camp session. No smoking or tobacco of any kind, no recreational drugs, no drinking.
Waterfront
Canoeing
Kayaking
Sailing
Windsurfing

Other Positions
Rock Climbing. Archery and Guitar experience into other key skills are a plus.

Arts and Crafts
Painting And Drawing

Dates for Staff Training & Camp: 6/7/18-8/11/18
Summer Address
Loon Lake, Eldorado National Forest (not a mailing address!)
near Pollock Pines, CA
650-369-4382 (tel.)
650-369-4382 (fax.)
Winter Address
DCC Bay Area Office
690 Emerald Hill Road
Redwood City, CA, 94061
650-369-4382 (tel.)
650-369-4382 (fax.)