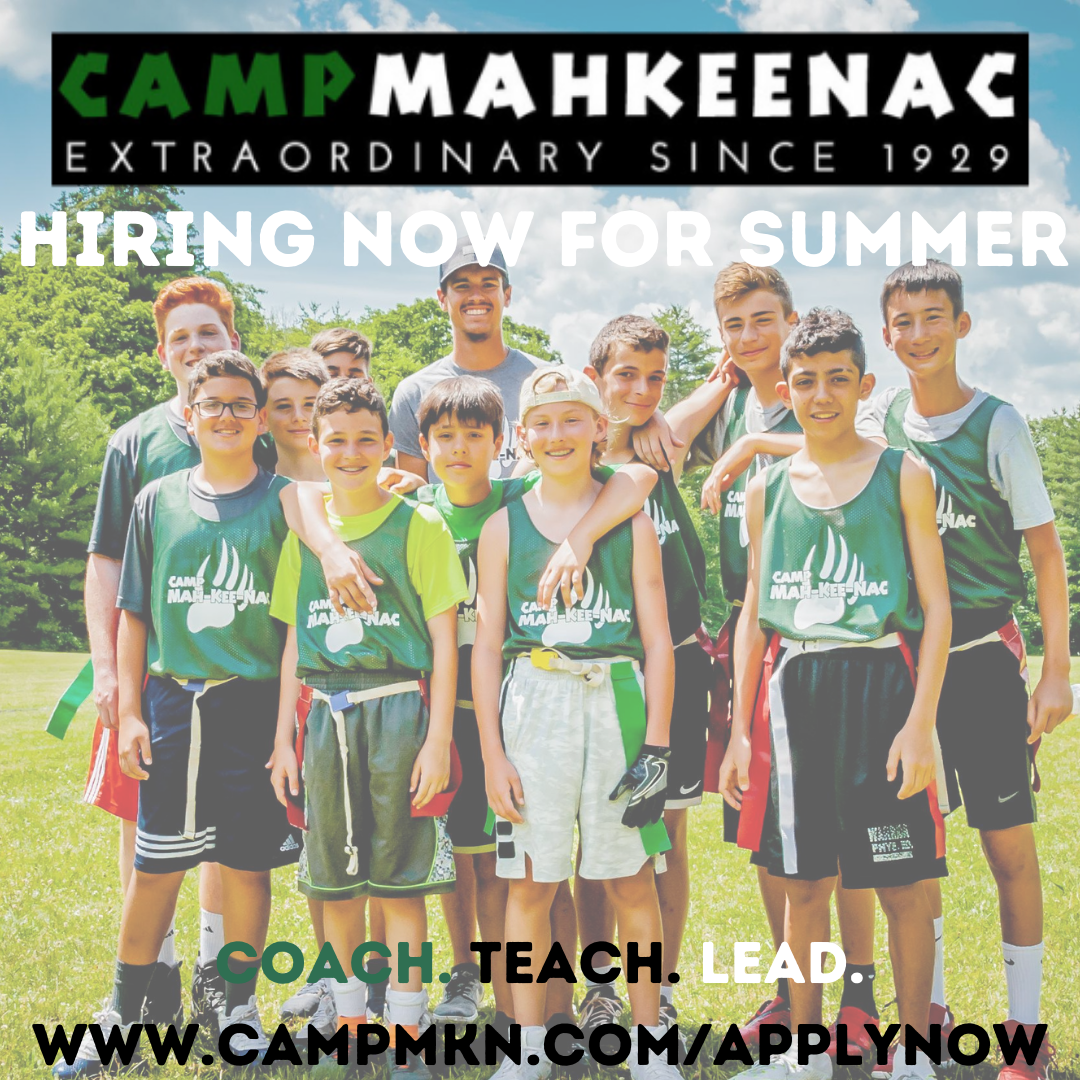 Camp Mah-Kee-Nac is a premier, traditional sleep-away camp for boys located in the Berkshire Mountains of Lenox, Massachusetts. We stress skill development, positive self-esteem, and fun for our campers and staff.

Our high-quality programming offers athletics, adventure, waterfront, creative and media arts. We are looking for staff, coaches & teachers with experience in one (or more) of these specialties. We are hoping to find role models, mentors, and people who love to work with kids.

Each summer we hire staff from all around the world to help run activities and serve in leadership roles. We also offer paid internship positions and will work directly with your colleges and universities to ensure you get the credit. Join us this summer and have the experience of a lifetime.

Spend your summer outside coaching, doing the extraordinary, all the while building your resume with real-world skills.

See our staff video at https://vimeo.com/376230195

All interested applicants can apply directly to Camp Mah-Kee-Nac at www.campmkn.com/applynow or call 413-274-4092 to speak with one of our directors.

You'll have the ability to enjoy our incredible camp facilities and property throughout your summer. During your time off, you can explore beautiful scenic hikes, enjoy our fully-equipped fitness center, multiple athletic fields, and courts, a second-to-none 37-acre lake, and relax in our staff lounge with wifi and entertainment.
Leadership Staff: Area Heads, Campus Leaders, and Office Admin
We are seeking dependable coaches and teachers to supervise instructors in program areas which include Athletics, Waterfront, Arts, and Adventure.

We are also seeking Campus Leaders to supervise counselors, campers, and cabin areas. Enjoy a fun-filled professional atmosphere while exercising leadership skills.
Sports
Archery
Baseball
Basketball
Bicycle
Field Hockey
Roller Hockey
Football
Golf
Lacrosse
Soccer
Tennis
Volleyball

Waterfront
Waterfront Counselor
Canoeing
Fishing
Kayaking
Sailing
Snorkeling
Swimming
Water Polo
Water Skiing

Miscellaneous
Photography
Radio
Video

General Staff
Camp Counselor
Maintenance Positions
Office Positions

Performing Arts
Music
Film Making

Other Positions
Adventure
High Ropes
Outdoor Recreation
Culinary
STEM
Mountain Biking
Model Rocketry
Broadcasting/Podcasting
Journalism
Martial Arts
Fencing
Cross Country/Track

Health & Safety
Nurse
Nurse's Assistant
EMT
Lifeguard
Water Safety Instructor

Kitchen
Food Prep
Baker
Dishwasher

Arts & Crafts
Jewelry Design
Woodworking
Painting And Drawing

https://www.campmkn.com/2021-covidcare-faqs/
Summer Address
Camp Mah-Kee-Nac
6 Hawthorne Rd
Lenox, MA 01240
413-274-4092 (tel.)
Winter Address
2321 Chestnut Ave
Ardmore, PA, 19003
413-274-4092 (tel.)