Camp Fitch's century-old, classic sleep-away summer camp on Lake Erie provides boys and girls aged 6–16 with a holistically safe, values-driven community where they discover friendship, achievement, and belonging on 425 acres along Lake Erie.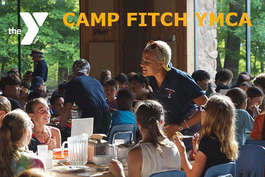 Program Emphasis
General Program
Adventure Camp
Computer Camp
Computer Gaming Camp
Family Camp
Farming Camp
Horseback Riding Camp
Mountain Biking And BMX Camp
Robotics Camp
Environmental Education Camp
Swim Camps
Type
Resident Camp
Family Camp

Sessions
1
2
3
4
5
6
7
8
Weeks
Camp Fitch Makes Kids Better, Forever

Parents are looking for engaging experiences that complement the goals that they have for their kids' development such as enhancing kids' social network with quality friendships, improving self-efficacy, and reassuring their children that the values parents teach and model are relevant.

Camp Fitch's century-old, classic sleep-away summer camp provides boys and girls aged 6–16 with a holistically safe, values-driven community where they discover friendship and achievement. Kids feel like they belong here among our carefully vetted, highly committed, and caring staff who create transformative experiences on a gorgeous and well-maintained site on the shore of Lake Erie.

Staff You Can Trust

The most important asset of a great camp is the staff that care for your child. At Camp Fitch, we have a very high staff return rate. Most of our staff grew up through our progressive leadership development sequence and our key leadership have each been at Fitch for decades. Since our minimum counselor age is 18 years old, most of our staff are college students: tomorrow's teachers and child-care experts who are carefully selected with a proven track record of leadership and positive role-modeling. We require an intensive, on-site week long orientation and skill-building session for all of our staff who learn to listen to each child and create a nurturing environment.

Philosophy

While Camp Fitch offers an impressive array of activities at our Lake Erie waterfront, state-of-the-art equestrian center, climbing tower, swimming pool, inland lake, and visual arts center, we recognize that these activities are a means to an end. In particular, the Fitch experience is designed to forge strong friendships that last a lifetime and solidify kids' growing sense that they can reach goals for which they have passion and apply persistence. Budding friendships are nurtured by our attentive staff and through daily group discussions about values like honesty, caring, and respect. Our wide spectrum of activities are the tool we use to provide an avenue for each kid to make meaningful accomplishments and experience powerful examples of effort impacting outcome.

Outcome

Parents rave about the value of the Fitch experience, often sharing with us that their children return home a more compassionate and communicative person. Thousands of friendships made at Fitch have lasted a lifetime. Many former campers cite their time at Fitch as one of the foundational experiences of their life that set them on a positive trajectory into a successful, satisfied adult.

Health and Safety

Children are supervised by our staff at all times. We employ three registered nurses who are on-site all summer to safely dispense medications and advise treatment of the infrequent sickness or injury. Camp Fitch is accredited by the American Camp Association and conducts an annual review of our operations. We also operate under the oversight of the Erie County Board of Health and screen all staff with three rigorous background checks. Our lifeguards are all certified by the YMCA or Red Cross trainers and participate in weekly assessments and trainings throughout the summer.
Activities and Features
Accommodating
Special Needs
Attention Deficit Disorder
Diabetes
Learning Disability
Religious Emphasis
Christian
Non Denominational
Outdoor Activities
General Outdoors
Climb and Rappel
Backpacking
Hiking
Rock Climbing
Caving
Performing Arts
General Performing Arts
Dance
Drama
Music
Health and Nutrition
Vegetarian
Horseback Riding
General Horseback Riding
English
Western
Competitive Events
Competitive Events
Intra Camp Competition
Computers
Computers
Individual Sports
General Individual Sports
Archery
Riflery
Golf
Team Sports
General Team Sports
Basketball
Lacrosse
Soccer
Softball
Volleyball
Water Sports
General Water Sports
Instructional Swimming
Recreational Swimming
Competitive Swimming
Canoeing
Fishing
Rowing
Water Skiing
Kayaking
Rafting
Snorkeling
Sailing
Water Polo
Arts and Crafts
General Arts and Crafts
Ceramics
Jewelry Design
Miscellaneous
General Miscellaneous Actvities
Color War
Mountain Biking
Environmental
Farming
Leadership Skills
Other Activities
Please visit our website for a longer list of the activities we offer.
Location & Contact
Camp Address
Camp Fitch YMCA
12600 Ables Rd
North Springfield PA, OH, 16430 USA
814-922-3219 (tel.)
814-922-7000 (fax.)
View Map
Winter Address
Camp Fitch YMCA
12600 Abels Rd
North Springfield, PA, 16430 USA
814 922 3219 (tel.)
814 922 7000 (fax.)
Click your browser's Back button
to return to previous search results
Copyright © 1995 - 2023 Camp Channel, Inc.