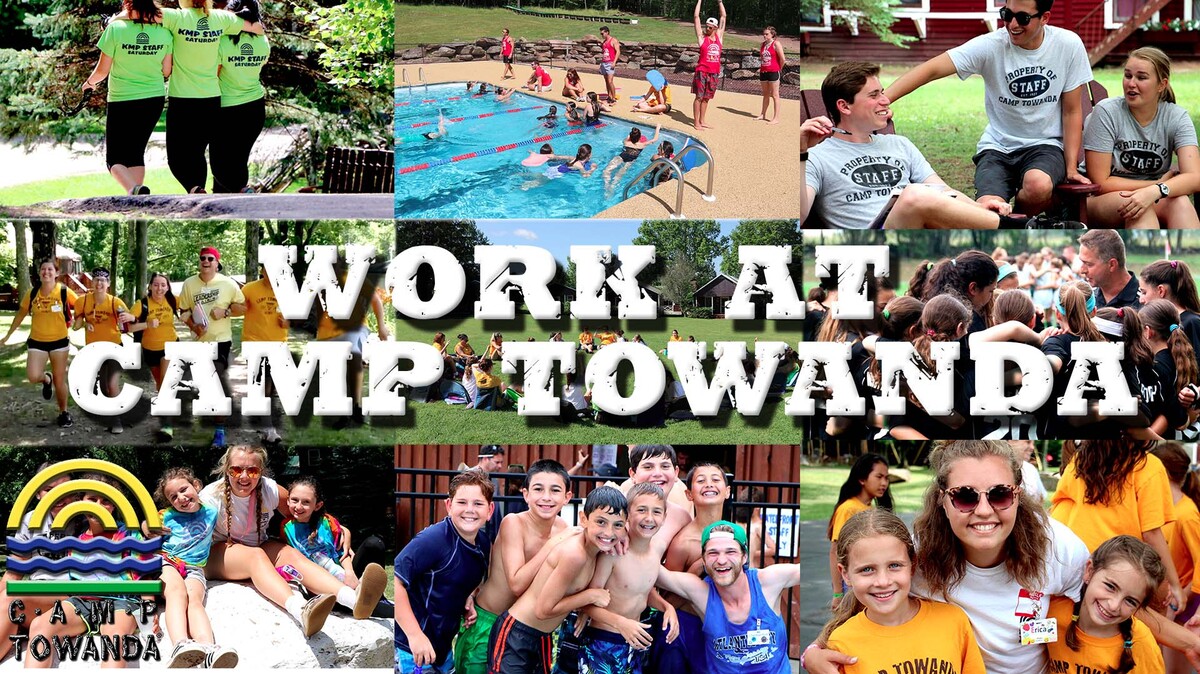 Camp Towanda is hiring enthusiastic, outgoing and dedicated staff to work with children ages 7-17, both as General Counselors and Specialty staff. Both General Counselors and Specialty staff live in the bunks with campers. We offer paid professional internships!

General Counselors are like big brothers/sisters to our campers during the summer. As a General Counselor you travel with the campers during the day from activity to activity and have opportunities to assist in a wide variety of daily activities and sports.

Specialty staff concentrate on their specific area during the day (Waterfront, Athletics, Outdoor Adventure, the Arts) working with campers of all ages and experience to develop their skills and talents. Working at Camp Towanda a great way to develop your coaching skills in a fun supportive environment. Our campers experience ranges from trying new things for the first time, to competitive athletes and performers.

We are looking for outgoing leaders that want to make a difference and be part of an amazing inspiring community. Working at Camp Towanda is an excellent opportunity to have fun, be creative, work hard and be a part of a great team!

When you work at Camp Towanda, you get hands-on experience and leadership opportunities, while building skills that future employers are looking for, such as flexibility, adaptability, initiative, leadership, social and cross-cultural skills, productivity, accountability, and responsibility. The job of a counselor is multi-faceted. Summer camp is an immersive, full time, 24-hour job. Working with kids is a challenging job but one of the most rewarding job experiences you will ever have!
Camp Towanda
Camp Towanda is situated on 400 acres in Northeastern PA, just 2.5 hours from New York and Philadelphia. Towanda attracts down-to-earth, friendly and spirited campers, families and staff. We hire 300 counselors and support staff from over 20 countries and all across the USA. When you work at Camp Towanda, you make a real difference in camper's lives, while building your resume and career-building skills (leadership, work-ethic, public speaking, management, responsibility) with the support of our top-notch senior staff and Director.

For over 100 years, Camp Towanda has continued to define what summer camp is all about. We are highly regarded and respected as an industry leader and are involved in giving back to various organizations throughout the year. Camp Towanda is accredited by the American Camp Association.
Sports
Archery
Baseball
Basketball
Bicycle
Field Hockey
Roller Hockey
Ice Hockey
Football
Golf
Gymnastics
Lacrosse
Soccer
Softball
Tennis
Volleyball

Health & Safety
Doctor
Nurse
Nurse's Assistant
EMT
CPR Instructor
First Aid Instructor
Lifeguard
Water Safety Instructor

Performing Arts
Drama
Dance
Acting
Music
Film Making

Kitchen
Food Prep
Baker
Dishwasher
Nutritionist

Academic
Teacher - General
Science
Camp Newspaper

Waterfront
Waterfront Counselor
Canoeing
Fishing
Jet Skiing
Kayaking
Rafting
Sailing
Swimming
Water Polo
Water Skiing

Miscellaneous
Photography
Radio
Video
Horseback Riding
Farming
Outdoor Trip Leader

Arts & Crafts
Ceramics
Fabric Design
Jewelry Design
Woodworking
Painting And Drawing

General
Camp Counselor
Maintenance Positions
Office Positions

CAMP AND COVID
Camp Towanda continues to work closely with our Medical Team to ensure the safety of everyone at camp. We continue to monitor the situation and make adjustments as needed.
Summer Address
700 Niles Pond Road
Honesdale, PA 18431
570-253-3266 (tel.)
Winter Address
700 Niles Pond Road
Honesdale, PA, 18431
570-253-3266 (tel.)